Focused Prior Art Searches for Patent Litigation Success
We cannot create prior art, but if it exists, we will find it.
Success in the courtroom starts with impeccable preparation. For litigation attorneys, diving deep into the world of prior art is crucial, seeking evidence that can tilt the balance of a case. It's not just about searching—it's about securing that vital edge for your clients. Maxinov's Patent Invalidation/Invalidity Search service aids in pinpointing both patent and non-patent documents that challenges a patent's claim validity. Maxinov is your ally in this mission, aligning our expertise with your litigation objectives.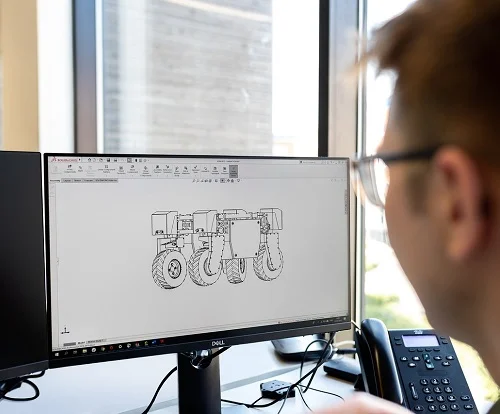 Why Maxinov for Patent Invalidation?
Advantages of Our In-depth Patent Invalidation Searches
Patent Invalidation Project Process Diagram
1. Project Request Raised
You submit a request for patent invalidation assistance. Share the patent number.
2. Project Accepted Within 24 Hours
Maxinov reviews the project request promptly. Communicate acceptance to you within 24 hours.
3. Kickoff Call
Schedule and conduct a kickoff call to discuss specifics, objectives, and expectations. Understand the grounds and reasons for seeking invalidation.
4. Initial Consultation
Delve deeper into the patent in question after the kickoff. Begin assembling necessary resources.
5. Document Collection
Gather all patent-related documents such as file wrapper, prosecution history, foreign filing documents, citation documents etc. Gather additional relevant documents if needed from you.
6. Preliminary Analysis
Review patent claims and specifications. Identify potential weak points or areas of contention, identify reasons for allowance.
7. Prior Art Search
Conduct an exhaustive search for prior art references. Use diverse resources for a thorough search.
8. Analysis of Prior Art
Review and analyze the identified prior art references. Determine their relevancy in the invalidation process. Keep you updated at every stage
9. Interim Report Submission
Summarize findings from the prior art search and analysis so far. Highlight potential evidence for invalidation. Share the interim findings with you. Gather feedback and understand areas requiring deeper exploration.
10. In-depth Analysis & Final Report Preparation
Based on feedback, conduct a more focused analysis of identified prior art to address any gaps. Finalize the report, incorporating all details, explanations, and expert insights.
11. Final Report Submission
Provide the comprehensive patent invalidation report. Detail evidence, in-depth analysis, and recommendations.
12. Continued Partnership
Extend support for future patent projects. Strengthen collaboration for mutual benefits.
What Litigation Attorneys Say
In our biotech patent disputes, precision is everything. Maxinov's team has consistently delivered impeccable research, often uncovering prior art that our in-house team missed. Their expertise in the biotechnology realm is commendable.
Senior Partner at a Patent Law Firm - Biotechnology Sector
As someone deeply involved in medical device patenting, I value Maxinov's in-depth understanding and methodical approach. Their analysts have consistently showcased an aptitude for the nuances of medical tech. I think they are the only patent litigation support company to attorneys who have vast medical industry patents experience.
Patent Litigation - Medical Devices
Our firm specializes in chronic care technologies solutions. Maxinov's proficiency in this niche yet vital domain has been instrumental in our recent patent successes. Their insights are gold.
Innovation Strategist at Care4Sugar
Software patents can be notoriously tricky. But with Maxinov by our side, we've navigated even the most convoluted patent disputes with confidence. Their team's understanding of software methodologies and IT frameworks is top-notch.
Patent Attorney at a Law Firm - Software & IT
Have a project for evidence investigation?
Frequently Asked Questions
Maxinov boasts 15 years of experience, precision-guided research tailored for litigation, and a blend of human expertise and AI. Their access to comprehensive databases and their focus on litigation requirements set them apart.
Maxinov uses AI to enhance search capabilities, speed up the process, and ensure thoroughness, while human analysts bring expert understanding and judgment to the results.
It's best to contact us directly for specific project timelines based on individual needs. In general we aim to prioritize urgent requests and deliver them according to client needs.
We offer different kinds of engagement models such as project-based engagements, hourly arrangement, fixed costing based, retainers for ongoing collaborations etc.
We work with both law firms and patent litigation attorneys as well as corporations, suggesting that we cater to a range of legal professionals. We have handled invalidation searches for more than 1,000 patents.
We prioritize confidentiality. Specifics about non-disclosure agreements or other protective measures are discussed and considered with each client.
Our analysts are adept at dissecting complex claim structures, ensuring every claim element is analyzed and mapped in depth against the prior art. This rigorous approach guarantees that no stone is left unturned in our search process.
Absolutely. Our team not only identifies relevant prior art but also offers insights on its strength and applicability in challenging patent validity, aiding in building a robust litigation strategy. We prepare comprehensive claim mapping charts.
Beyond traditional searching methods across patent and well as non patent databases, Maxinov employs advanced AI techniques, proprietary search algorithms, and the expertise of our seasoned analysts to uncover the most pertinent prior art, often overlooked in regular searches.
With access to the world's most comprehensive databases, libraries, and a blend of AI and human expertise, we ensure a thorough search encompassing both patent and non-patent literature (either written or verbally recorded) to challenge patent validity effectively.
Our team has expertise spanning a diverse set of technologies. From biotechnology to software, electronics, and mechanical engineering, our seasoned analysts are equipped to handle intricate patent areas across various domains.
Yes, We pride on staying updated with the latest advancements. Our analysts are trained and adept in emerging tech fields, ensuring comprehensive searches in areas like AI, Quantum Computing, and more.
Other prior art search services that may be of interest to you
Navigate the patent landscape with confidence. Our FTO services help you identify potential patent barriers in your target markets, minimizing risks and enabling smoother product launches.
Infringement Searches / Product Searches / Evidence of Use
Protect your interests and preemptively address potential infringements. We meticulously scan for products, services, or publications that might infringe upon your patents, offering a holistic view of potential threats in the market.
Patent Landscape Analysis
Gain a panoramic view of the existing patent environment related to your domain. Our exhaustive research paints a clear picture of current trends, key players, and potential opportunities.
Identify gaps and untapped potential in the patent domain. With our whitespace analysis, we spotlight areas of opportunity, enabling you to innovate strategically and stay ahead of the competition.
Dive deep into the novelty and inventive steps of your innovation. We provide thorough analyses to gauge the patentability of ideas, ensuring you're on solid ground before proceeding.
Patent invalidity or patent validity searches are conducted to either validate enforceability of claims of a patent or to invalidate one or more claims of some other patent (mostly of a competitor). It is the first step taken by a company facing a patent infringement lawsuit. A Patent Validity or Patent Invalidity Search is a prior art search that is conducted after issuance of a patent. These two types of searches are identical except for the desired outcome (valid or invalid patent claims) of the search. This is also sometimes referred to as an opposition search.
When should you conduct a patent validity or patent invalidation search?
When you are confronted by allegations of patent infringement, an invalidation search is the first line of defense as it serves as a proof of invalidity based on prior art. Any patent invalidation study may involve hundreds of millions of dollars at stake, therefore it requires good patent expertise and technical understanding of the person to conduct a good prior art patent invalidity search.
A Patent Validity Search may be done when a client is evaluating options of licensing, buying, or selling a patent and wants to know that the patent is enforceable. If you know whether the patent can withstand an attack on validity or not, it will help you to take an informed decision while negotiating a patent transaction deal.
Sometimes, a Patent Office may have issued patent claims in error and might possible have overlooked a prior art document. This is because patent examiners have limited time and resources to conduct their searches. A client may want to do a patent validity/invalidity search and use the search results to try to invalidate the granted patent either by litigation or by filing a petition for review of the patent at the U.S. Patent and Trademark Office or any other patent jurisdiction.
Why you should trust Maxinov for your patent invalidation /validity case?
There are multiple reasons why Maxinov can be your trusted partner for prior art searches and particularly patent invalidation/validity studies:
15+ years of business in patent research and patent intelligence
Our team have experienced person of over a decade of experience in handling patent matters such as patent prosecution, patent searches, patent invalidation etc.
Our unique blend of technology expertise and patent experience help us deliver the highest of the quality standards in IP industry.
We have a strong team who understands the technology of a patent including researchers, lawyers, patent agents, scientists, business professionals, engineers, etc. Our technology capabilities range from life sciences (pharma, biomed, medical tech) and mechanical structures and machines to electronics, computer sciences and engineering, healthcare IT, 3D printing, blockchain, 5G, IoT and other hi-tech innovative technology sectors.
A patent invalidity search is generally wide-ranging and requires extensive coverage and review of literature because an entire patent infringement lawsuit depends on it (and as such involves millions of dollars at stake). We have access to some of the best patent databases that allow us to review literature for searching with a vast coverage across 100+ patent jurisdictions.
We have successfully completed more than 3,000 searches
Our deliverables (search reports) are highly customized based on client requirements and highlight claim/key feature mapping for easy review by the client and help make a decision about use of the prior art in their case.
The search report highlights relevant and important texts which is quite helpful for prior art review and its overlap with the granted patent and consideration for validity/invalidity.
Partnered USPTO patent attorney in case the client requires a legal support.